SECURITY & PAYMENT
Your financial & identity protection is our most important priority. That is why we process all payments through PayPal, which is one of the safest & most secure payment processing systems in the world.
We take reasonable care to make our Site secure. All credit/debit card transactions on this site are processed using PayPal, a secure online payment gateway that encrypts your card details in a secure host environment. We will not store your credit/debit card details on our systems as PayPal processes it independently of THEMARTSHOP. PayPal ensured all transactions will be fully encrypted and only used to process card transactions which you have initiated. To help ensure that your shopping experience is safe, simple and secure THEMARTSHOP and PayPal uses Secure Socket Layer (SSL) technology.
Furthermore, we take reasonable care, in so far as it is in our power to do so, to keep the details of your order and payment secure, but in the absence of negligence on our part we cannot be held liable for any loss you may suffer if a third party procures unauthorized access to any data you provide when accessing or ordering from the Site.
DUTIES AND TAXES
All prices indicated on this Site do not reflect any or all of the international duties, taxes, or other customs charges that the package may encounter when it arrives in its final destination. Please contact the customs agency officials to find out of all applicable taxes and duties (if any). Those charges vary greatly from country to country and will not be covered by THEMARTSHOP, Inc.
ELIGIBILITY TO PURCHASE AND ORDER
The Site is available only to individuals and others who meet the Site's terms of eligibility, who have been issued a valid credit/debit card by a bank acceptable to PayPal, and who have authorized us to process a charge or charges on their credit/debit card in the amount of the total purchase price for the merchandise which they purchase.
By making an offer to purchase merchandise, you expressly authorized us to perform credit checks and, where THEMARTSHOP Co. feels necessary, to transmit or to obtain your credit card information or credit report information (including any updated information) to or from third parties solely to authenticate your identity, to validate your credit/debit card, to obtain an initial credit card authorization and/or to authorize individual purchase transactions.
Furthermore, you agree that we may use Personal Information provided by you in order to conduct appropriate anti-fraud checks. Personal Information that you provide may be disclosed to a credit reference or fraud prevention agency, which may keep a record of that information.
We reserve the right not to accept your order in the event, for example, that we are unable to obtain authorization for payment, that shipping restrictions apply to a particular item, that the item ordered is out of stock or does not satisfy our quality control standards and is withdrawn, or that you do not meet the eligibility criteria set out within the Terms of Use.
Furthermore, we may refuse to process a transaction for any reason or refuse service to anyone at any time at our sole discretion. We will not be liable to you or any third party by reason of our withdrawing any merchandise from the Site whether or not that merchandise has been sold, removing, screening or editing any materials or content on the Site, refusing to process a transaction or unwinding or suspending any transaction after processing has begun.
Please refer to our Privacy Policy page for further information about how we use your data.
RESOLVING YOUR CONCERNS
If you have any concerns with or do not understand, our Terms of Use, we welcome you to contact us and we will make every effort to address and resolve your concerns. Feel free to contact us by email address info@themartshop.com and we will respond within 24 hours
—– See this product in real business and events. —–
Feather/beach/swooper flags are great way to display and promote your business and events.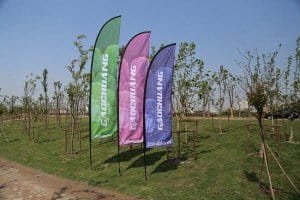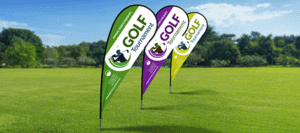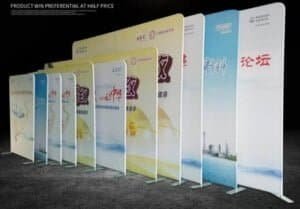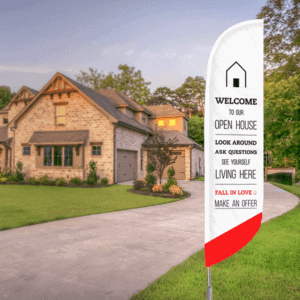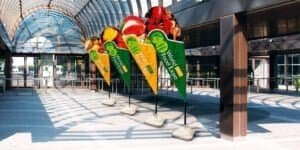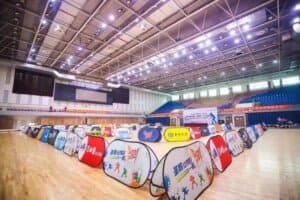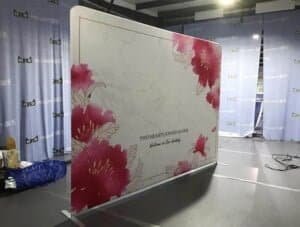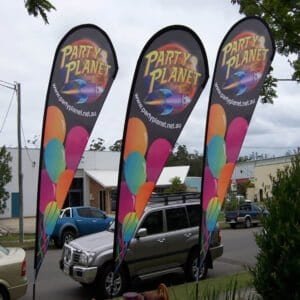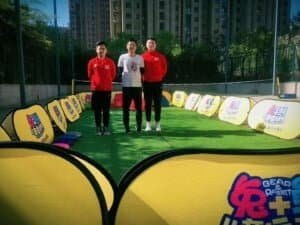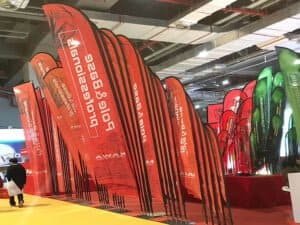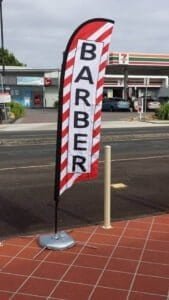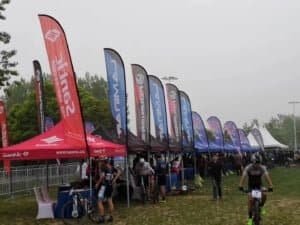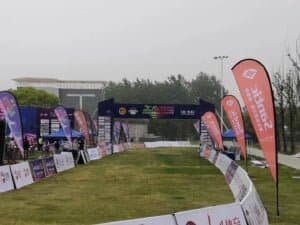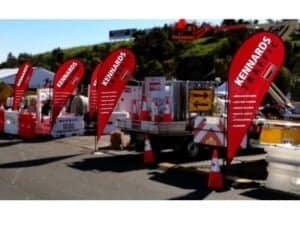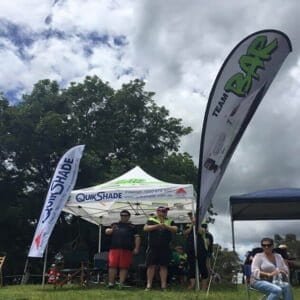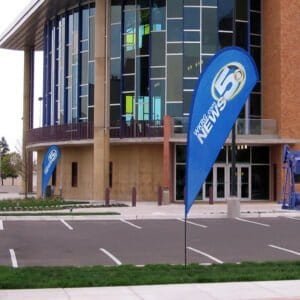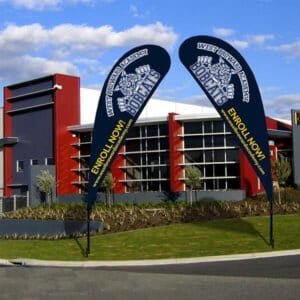 —– Trusted By Our Customer. —–
We are happy to service our customers and support them. Join Us Now!
—– How it works? —–
(It's as easy as 1, 2, 3)
Custom Printed Flags, Beach/Feather Flags, Tear Drop Flags,  Street Flags,  Rectangle Flags,  Pop Up a Frame Banner,  Tension Fabric Displays.
Fill in the form, tell us what you want. Upload your own artwork or send us items and we'll design it freely.
If the quote is accepted, we'll email you a proof. You will need to approve your flag proof. Then We'll email you an invoice.
When you pay it, We will ship them and send you a tracking number. You will receive it in 7 to 10 days
—– Why Choose Us? —–
To get you started now, it's fast, efficient, and ready to kickstart your business.
Have an idea but don't know how to design? Don't worry our innovative design team is always happy to help!
Yes, it's true – we ship worldwide! Lead time for printing and delivery is 6 to 12 days. 
We print all of our products in-house, and we cut out the middleman and pass these savings on to you.
Design & Buy 1 or 100 is ok! All inquiries are Welcome!
—– What People Say —–
Here's what our clients have to say about our services.
Always a great seller! Very fast shipping and great quality. Will use again very soon. THANKS!!!
Elie Isaacson / Agilite Ltd /
Always a pleasure doing business. Flags always come very fast with the highest of quality! Cann't wait to purchase another round of flags! Very very very good seller!!!!
Jozyane Picanco / Microfoft /
"Creative dudes who get sh*t done. I gave them a near impossible task and they did it with style and came in under budget."
Fernanda Rocha / Higeet /
I placed a large order for my volleyball team. The order came in early and everything looked great! The quality was good and we were all satisfied with the products!
Tracy Smith
—– Our Clicent —–
Many Companies Use Our Products, What About You?
—– How to Set Up a Feather or Teardrop Flags Banner —–
Feather Flags Banner or Teardrops Flag Banner Overview, Please watch the video