Yes, it's true.-we ship all over the world! FREE SHIPPING
Processing an order takes 2-3 business days, regardless of the shipping option selected at checkout. We ship from Monday to Friday, excluding weekends and holidays. We can not guarantee delivery on Saturday even if your shipment is upgraded to express. We don't ship on the same day. Please allow up to 2 business days to process the order (for example, if you order on Monday, your order should be shipped on Tuesday or Wednesday). After the order is shipped, you will receive a confirmation email with a tracking link. Please receive this delivery confirmation email within 48 hours. Courier options and any other third-party charges are non-refundable. We can not be held responsible for any delay caused by the carrier.
Note that processing can be delayed by 1-2 business days if the address provided is inaccurate or incomplete, or if your order contains unverified details. We encourage all customers to thoroughly review their shipping and billing information before checking out to ensure that any potential delays are avoided.
Your package may or may not require a signature. Most packages are delivered to the mailbox or the front door of the address provided, but it is up to the deliveryman to decide whether the package can be opened safely. If they don't think it's safe, they'll leave the package at the local post office or reschedule another delivery. Our best advice is to enter a shipping address (a work address or friend address) where you know you or someone else can accept a package.
INTERNATIONAL TAXES AND TARIFFS
International customers are responsible for paying any applicable entry duties, taxes and any other charges that the local customs authorities deem appropriate. These fees are paid to your local carrier or government, and are not charged by luxurious hair and are therefore not refundable.
We deliver international parcels DDU (unpaid duties and taxes), which means that these charges are not included in the price of the goods you purchase from our website. The recipient must pay all applicable charges to receive the package. Since we are not in a position to disclose the amount of these charges, we recommend contacting your country's customs or tax agent to find out the charges and rates for parcels outside your country.
Please note that DHL pays on your behalf any duties and taxes that may be due on the importation of the goods. This simple process ensures that the courier company can deliver the package in the shortest possible time. The goods may be released to you only after full payment of any customs duties and taxes paid on your behalf. In some cases, you may receive an invoice from DHL for the amount they paid on your behalf at the destination, plus a small administrative fee.
Delivered but not delivered
All of our shipments include tracking with the shipping confirmation. If the tracking information confirms that the item has been delivered to your order address, but you have not received the order, please contact the courier with the above number to investigate the problem. We are not liable if the tracking information of the package indicates that the package has been delivered to your order address.
If you have previously encountered a lost or stolen package in your area, we encourage you to send the package to your work address to ensure that the package you receive is safe and reliable.
TRACKING YOUR ORDER
You will receive a confirmation e-mail once your order has been processed to the e-mail address provided at the time of checkout, which can take up to 48 hours. You will receive a second e-mail once your order has shipped, which will include your tracking number and a link to follow the journey of your package. If there is a problem with your tracking number or package delivery, please contact the courier directly prior to contacting us. Please allow 1 – 4 days for the tracking information to show. In some rare case, the tracking information may not update but you will still receive your order. Please contact us after the estimated delivery time.
Address Error Disclaimer
It is the responsibility of the buyer to ensure that the shipping address is entered correctly. We try to speed up processing and shipping times, so the time between canceling/ changing order or changing an order address is very small. If you decide to cancel your order or change your shipping address, please contact info@themartshop.com immediately after placing your order. We will do our best to make changes, but we can not guarantee that we will be able to do so because the time frame for doing so is different.
If it is too late for our team to cancel your order, you can return it to us upon receipt of the order. For more information on how to return an order, click here. The only thing we can do is wait and see if the package comes back to us. If it does return to our warehouse, we can send it to the correct address or give you a full refund.
Extra Shipping: If you upgrade your shipping charges and return the package to us due to incorrect address, and if you want a refund, you will not be compensated for the upgrade charges.
RATE OF RETURN
By placing an order at Themartshop, you are responsible for the cost of return shipping back to Luxy Hair. Please refer to our international returns policy for further information on how to return your packages.
—– See this product in real business and events. —–
Feather/beach/swooper flags are great way to display and promote your business and events.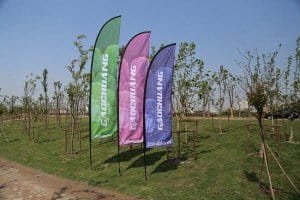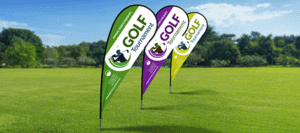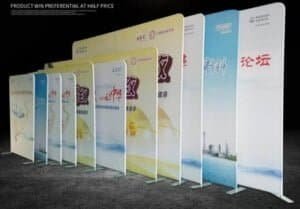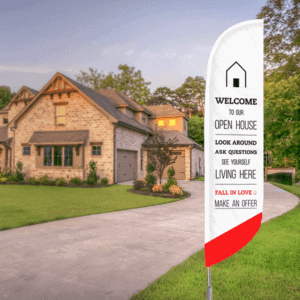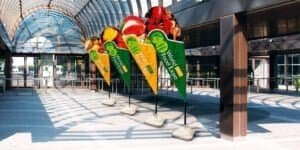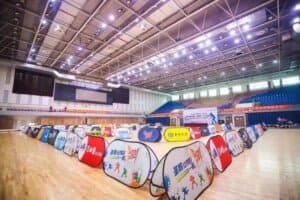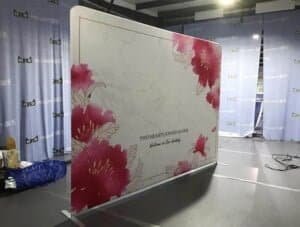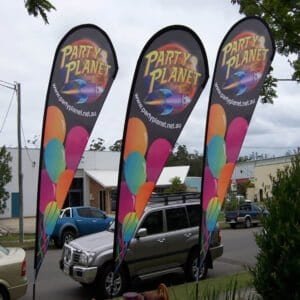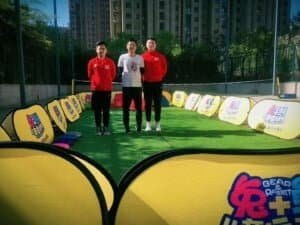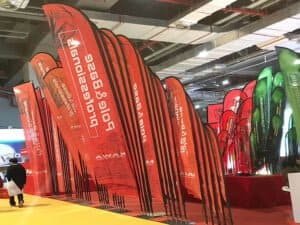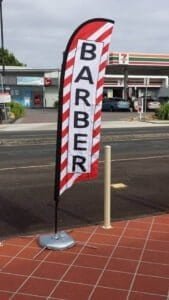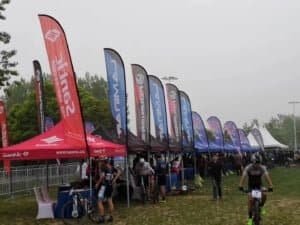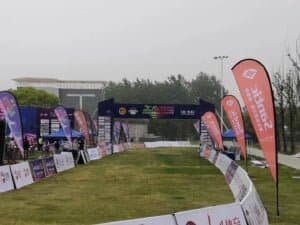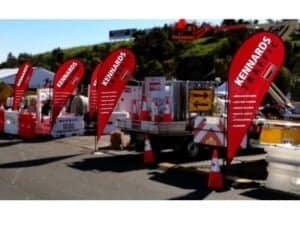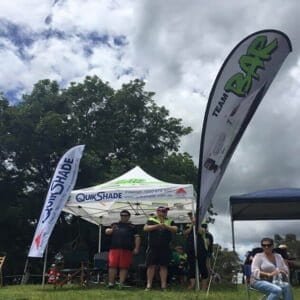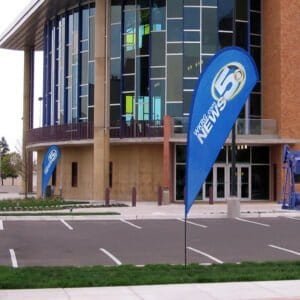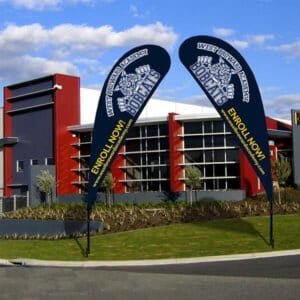 —– Trusted By Our Customer. —–
We are happy to service our customers and support them. Join Us Now!
—– How it works? —–
(It's as easy as 1, 2, 3)
Custom Printed Flags, Beach/Feather Flags, Tear Drop Flags,  Street Flags,  Rectangle Flags,  Pop Up a Frame Banner,  Tension Fabric Displays.
Fill in the form, tell us what you want. Upload your own artwork or send us items and we'll design it freely.
If the quote is accepted, we'll email you a proof. You will need to approve your flag proof. Then We'll email you an invoice.
When you pay it, We will ship them and send you a tracking number. You will receive it in 7 to 10 days
—– Why Choose Us? —–
To get you started now, it's fast, efficient, and ready to kickstart your business.
Have an idea but don't know how to design? Don't worry our innovative design team is always happy to help!
Yes, it's true – we ship worldwide! Lead time for printing and delivery is 6 to 12 days. 
We print all of our products in-house, and we cut out the middleman and pass these savings on to you.
Design & Buy 1 or 100 is ok! All inquiries are Welcome!
—– What People Say —–
Here's what our clients have to say about our services.
Always a great seller! Very fast shipping and great quality. Will use again very soon. THANKS!!!
Elie Isaacson / Agilite Ltd /
Always a pleasure doing business. Flags always come very fast with the highest of quality! Cann't wait to purchase another round of flags! Very very very good seller!!!!
Jozyane Picanco / Microfoft /
"Creative dudes who get sh*t done. I gave them a near impossible task and they did it with style and came in under budget."
Fernanda Rocha / Higeet /
I placed a large order for my volleyball team. The order came in early and everything looked great! The quality was good and we were all satisfied with the products!
Tracy Smith
—– Our Clicent —–
Many Companies Use Our Products, What About You?
—– How to Set Up a Feather or Teardrop Flags Banner —–
Feather Flags Banner or Teardrops Flag Banner Overview, Please watch the video